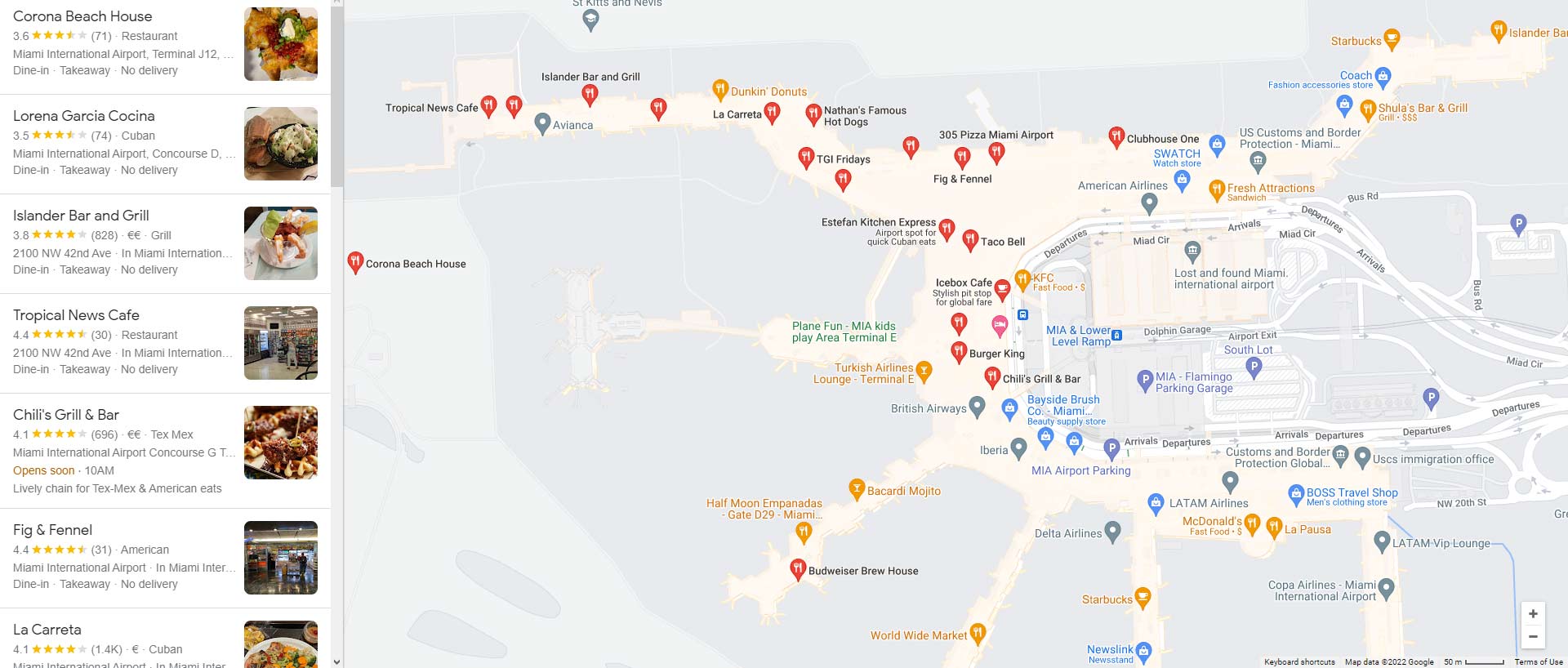 There's a great restaurant in the Miami airport – it's always busy, but the food is worth it. They have a bar too, and it's always packed. I was there the other day, waiting for my flight to board, and I saw something interesting.
There was a guy at the bar, and he was absolutely hammered. He had been drinking for hours, and he was getting pretty rowdy. The other people at the bar were starting to get uncomfortable, and they were trying to move away from him. But he wasn't having any of that. He kept coming over to them, trying to start fights. It was really weird – you don't see that kind of thing at an airport restaurant very often.
Eventually, the guy had had enough alcohol and he passed out on the floor. It was pretty funny to watch – but it also made me a little nervous. I'm not sure what would have happened if he hadn't passed out.
Food – Restaurant – Bar North Terminal (Gate D) miami airport.

Welcome to our restaurant, where we serve fresh and delicious food for you to enjoy. Our bar offers a variety of drinks for you to choose from, so you can relax and unwind before your flight. We hope you have a pleasant experience at our restaurant.
Notable options:
Cafe Versailles
Icebox Cafe
La Carreta Restaurant:
Ku-Va – [D19]
Spring Chicken
Shula's Bar & Grill: Enjoy Don Shula's steak and other big player items at a more quick and casual setting. [D17]
The rest:
Au Bon Pain [D44]
305 Pizza [D27]
Bacardi Mojito Bar [Located across from D53]
Beaudevin [D24]
Clover Irish Pub
Clubhouse One [D29]
The Counter [D33]
Corona Beach House [D23]
Dunkin Donuts (Inside Miami News Now) [D41]
Einstein Bagels [D26]
Estefan Kitchen Express [D27]
Fig & Fennel [D28]
Halfmoon Empanadas [D29]
Ice Box Cafe [D8]
Islander Bar & Grill [D4, D49]
Jose Cuervo Tequileria [D11]
Juan Valdes Cafe [D23]
Manchu Wok [D44, D22]
Nathan's Famous Hot Dogs [D21, Pre-security D37]
Starbucks [Terminal D, Near Checkpoint 4, D10, D30]
Sushi Maki [D29]
TGI Friday's (Smoking Lounge Available) [D36]
Villa Pizza [D21]
Wendy's [D19]
Central Terminal (Gates E, F, & G)
When you walk into Central Terminal's food court, you're greeted with the smell of frying oil and delicious aromas from the various restaurants. Among them is Restaurant Bar, a popular spot for travelers and locals alike.
The restaurant has a casual atmosphere, with dark wood floors and red leather seats. There's a bar in the back where you can order drinks, and several TVs mounted on the walls so you can catch up on the latest news or sports.
The menu features classic American fare, from burgers and fries to pizza and chicken wings. The prices are reasonable, making it a great option for budget-minded travelers.
If you're looking for a good meal before your flight or just want to relax in a comfortable setting, Restaurant Bar is definitely worth checking out.
Notable Options:
Viena [Terminal E, 7th Floor]
Options:
Budweiser Brewhouse [Terminal G]
Burger King [Terminal E]
Pizza Hut Express [Terminal E, G]
Cafe La Caretta – [Terminal E, first floor arrivals]
Cafe Versailles [Terminal F, E]
Chef Creole [E Pre-security]
Chili's Too – [Terminal G]
Dunkin Donuts [Terminal F]
Guava & Java [Terminal F & G]
Halfmoon Empanadas [Terminal F]
Sergio's Cuban [Terminal E]
Margartiaville [Terminal E, Pre-Security]
Samuel Adams [Terminal E]
Stella Bar [Terminal E]
Sushi Maki [Terminal E]
Wynwood Warehouse Bar [Terminal E]
South Terminal (H&J)

South Terminal is a restaurant – bar located in Miami airport. The establishment offers a unique and relaxing atmosphere, perfect for travelers looking to unwind before their flight. The menu features classic American cuisine, as well as a wide selection of cocktails and beers.
Whether you're passing through Miami airport or just looking for a great place to eat, South Terminal is the perfect spot. Stop by today and see for yourself!
Options:
Bud Light Lounge [H12]
Bongos Cuban Cafe [H-J Connector]
Corona Beach House [J11]
Earl of Sandwich [J8]
Famous Famiglia [H-J Food Court]
Gilbert's Food Bar [H-J Food Court, Terminal J]
Heineken Bar [H6]
La Pausa [H-J Connector]
McDonald's [H-J Food Court]
Nathan's Famous [H9]
Subway [H7]
Starbucks [H5, J7]
Quizno's [H12]