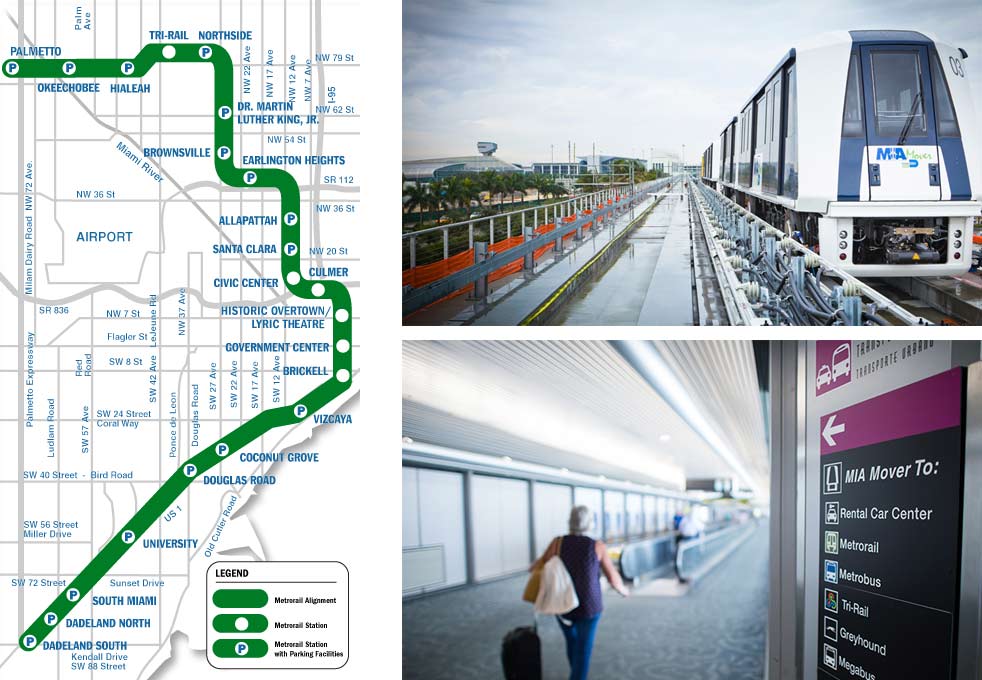 Departure times: every 15 minutes, after 20:30 every 30 minutes.
Price: 2.50 USD.
To reach Miami Beach and downtown from the airport, you are welcome to use the Miami Metrorail which is one of the cheapest ways of getting around the city. Most of Miami's key popular attractions are reachable via the overground Metrorail metro. There are two lines at the Miami Subway: orange and green. Both lines operate to Earlington Heights station, from which the Orange line heads towards the airport. The Orange Line, run by Metrorail, connects Miami International Airport with places including Downtown, Brickell, Civic Center, Coconut Grove, Coral Gables, Dadeland, Hialeah, South Miami, and Wynwood for travelers. It takes around 15 minutes to get to the city center.
Metrorail Miami airport map
The metro is one of the fastest and most affordable ways to go from Miami Airport to the city center, however, you should first take the MIA Mover to Central Station. This travel takes around 5 minutes. When planning a journey by metro, keep in mind that no line operates 24 hours a day, which may require an overnight stay at the airport or a taxi/Uber ride. The trains operate every day from Sunday to Thursday from 5:00 p.m. to 0:00 a.m., and on Friday and Saturday, they run until 2:00 a.m. Departures occur every 15 minutes during the day and every 30 minutes after 20:30.
Before entering the station, a ticket can be purchased for $ 2.25 for a single ride at the vending machine. You can switch between the lines for three hours for this price. The ticket must be validated at the gate in order to enter the platform. Additionally, you may purchase a single-day ticket or a multi-day ticket. For example, a single-day ticket costs $5.65, while a multi-day ticket costs $29.25.